Meet Figgy and Cupcake, two of Santa's Christmas elves. For 11 months of the year, Cupcake is a bright and bubbly bundle of joy. But come December 1st, all that changes - because Cupcake is 'The Elf Who Was Scared of Christmas'.
Come and join Figgy in an original Christmas story as he tries to help Cupcake overcome her fear of Christmas. Using the power of imagination, and with a little help from you, will he be able to remind her of the importance and magic of Christmas? And, in helping Cupcake, will Figgy solve some of his own Christmassy problems?
This December, join Figgy and Cupcake on a journey of self-discovery, friendship and Christmas cheer, ending in an an all-singing, all-dancing musical celebration featuring some of your favourite Christmas songs.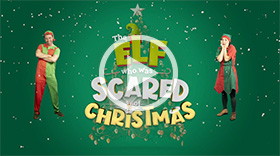 Due to the Covid-19 pandemic, most theatre this Christmas has been cancelled. We wanted to make sure that children didn't miss out on the chance to experience the magic of a Christmas show, some for the very first time. By coming to see this gorgeous show, you also will be supporting theatre, which has been so badly affected by closure this year, and in doing so, helping there to be an industry for future generations.
Adults £25
Children £15

A booking fee applies to phone and internet orders; no booking fee to personal callers.
8th - 23rd Dec 2020
Tuesday to Friday
at 11.30am & 1.30pm
Saturday & Sunday
at 10.30am & 12.30pm

No performances
on 14th, 19th & 21st.
Charing Cross Theatre
The Arches Villiers Street
London
WC2N 6NL
020 7407 0234
Nearest Tube Stations
Charing Cross / Embankment
For all information on how Charing Cross Theatre is making your theatre trip as safe as possible, click here. Should the November lockdown be extended further into December, thus affecting your booking, you will be entitled to a full refund.